2019 Mazda3 Starts at $18,000 and Packs All the Features You Want
February 25 2019,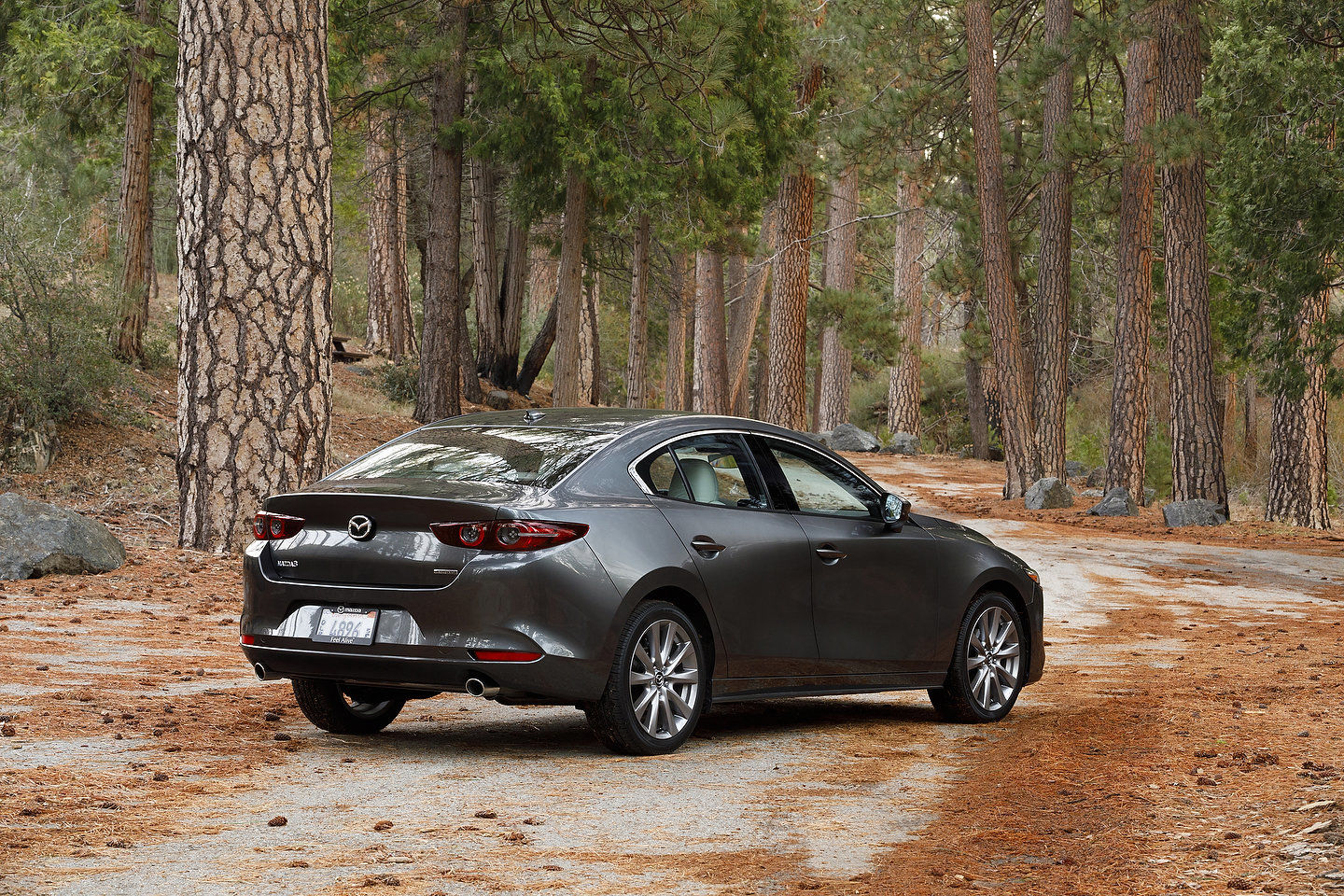 The 2019 Mazda3 breaks down into three base trims with various optional packages or individual features. We'll try and simplify everything for you by describing each trim individually.
2019 Mazda3 GX
The Mazda3 GX is the entry-level new Mazda3 and starts at $18,000. It's powered by a 2.0-liter, four-cylinder SKYACTIV-G engine with 155 horsepower and 150 pound-feet of torque coupled to a 6-speed manual gearbox. You can also opt for a 6-speed automatic gearbox which brings the price up to $21,600.
That said, if you tick the box for the automatic transmission, you also get the Convenience package which we will look at in a second.
Standard features on the 2019 Mazda3 GX include an 8-way manual driver's seat, 8-speaker sound system, Apple CarPlay and Android Auto, and LED front headlights. Buyers can also choose to add the Convenience Package for $2,300 with the manual gearbox or include it when you opt for the automatic.
The Convenience package includes 16-inch wheels, blind spot monitoring, rear cross traffic alert, air conditioning, heated front seats, cruise control, and body colored exterior mirrors.
2019 Mazda3 GS
The GS trim gets everything the new Mazda3 GS gets plus de convenience package and starts at $22,700 with the six-speed manual. Adding the automatic bumps up the price by $1,600 to $24,700.
The GS offers everything the GX model has plus the Convenience package, while also adding dual-zone climate controls and Mazda's i-ACTIVESENSE suite of active safety technologies.
GS buyers can also opt for the more powerful 2.5-liter SKYACTIV-G 2.5-liter four-cylinder engine with 186 horsepower and 186 pound-feet of torque.
Better yet, the 2019 Mazda3 GS is available with i-ACTIV all-wheel drive. You'll also get the automatic gearbox with your Mazda3 AWD for just $26,000.
A Luxury package that includes leatherette upholstery, a sunroof, driver seat memory and an auto-dimming interior rearview mirror is also included in the Luxury Package for just $1,900.
2019 Mazda3 GT
The 2019 Mazda3 GT gets the more powerful 2.5-liter SKYACTIV-G 2.5-liter engine with 186 horsepower and 186 pound-feet of torque. It starts at $26,200. The GT features 18-inch wheels and an adaptive front-lighting system.
An optional Premium package which features leather seats, 10-way adjustable driver's seat, advanced keyless entry, a navigation system, SiriusXM satellite radio, front wiper de-icer, and improved safety thanks to smart brake support at the rear and rear crossings is available for $2,500.
You can also get your Mazda3 GT in all-wheel drive for $30,400 and you'll also get the luxury package.
2019 Mazda3 Sport
The 2019 Mazda3 Sport is also included. With its hatchback design, it offers more interior space and more cargo space as well. It's available starting at $21,300 and essentially offers the same trims and features as the sedan. The only difference is that you can get the six-speed manual with the more powerful 2.5-liter engine which isn't possible in the 2019 Mazda3 sedan.
To learn more about the 2019 Mazda3, contact us today at Gerry Gordon Mazda.